Black Soot Magic has finally arrived!
1000's of customers use our products, and one of the most common problems our clients didn't have a solution for was cleaning black soot off their ceilings and walls.
New product to quickly clean black smoke soot & candle oil stains off ceilings & walls…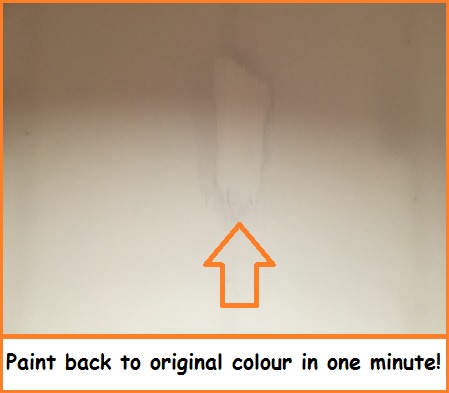 Black Soot Magic will remove candle and fire smoke marks off walls within minutes. Just like all our other products, this one works that fast! Yes, within one minute you will see the smoke soot will be dissolved… simply wipe it off and that's it!
Remove black smoke stains caused by scented candle smoke
Smoke stained walls
Gets rid of oily film the smoke soot is made of
Cleans fireplace smoke soot & leaking flue residue
Using wood or oil heating in your home? Black soot magic will take care of any mess it makes on your ceilings & walls!
Use on all painted and sealed wall surfaces
Do you have a shrine in your home? Keep a bottle of Black Soot Magic handy to get rid of any candle or smoke damage.
Works infront of your eyes in one minute!
This amazing product is a liquid and it works fast with no elbow grease required! Simply spray on > wait 1 minute > wipe off.
Like all cleaning products, there are chemicals in this product that serve their purpose for cleaning black soot, therefore make sure all surrounding surfaces are covered, and do not spray directly above your head on the ceiling (So the liquid doesn't fall back down on top of you).
Once you see how effective this candle smoke & soot removal product works, you will never worry about dirty walls again!
Do you own a cleaning business? Many cleaning companies use our products as their secret weapon to get jobs done in half the time it would normally take them in the past. Add this product to your basket of cleaning products and make more money! Imagine the look on your clients face when they see a shiny clean wall that looked terrible before you arrived that same day? They will be happy to pay you with a smile!
You can either clean the hard way, or the quick way.