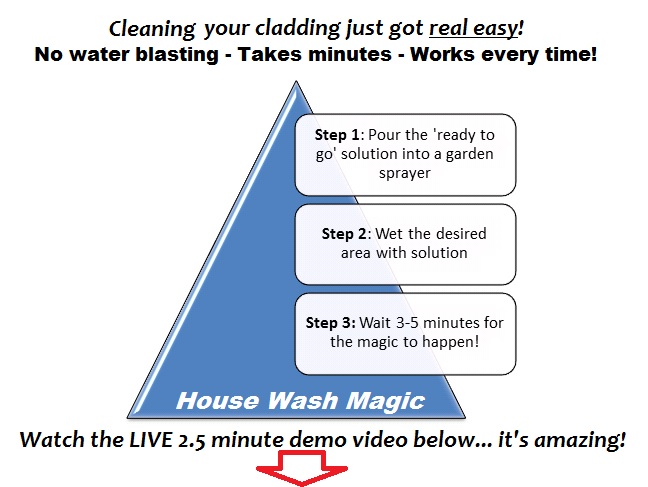 Product info:
House Wash Magic is the perfect DIY product to have in your shed for outdoor cleaning. Not only does it work just as you see in the video, it allows anyone in the home to do the cleaning without the risk of water blasting paint off the cladding, or driving water up under soffits,eves & flashings.
Tested and Proven:
Over 20,000 home owners and commercial companies use our products, because they work… and our house wash cleaning product is no exception.
Yes, there are plenty of products on the market that are designed for a similar purpose, but how many of them work in minutes? With House Wash Magic, think minutes, not days to work.
By the time you get to the end of the wall, it will be clean back where you started… seriously! It's also a real quick & cheap way to impress your partner also. Just wait until they go down to the shop to buy some milk, then quickly spray a wall and watch their face light up upon their return.
Instructions & Key Points:
The product arrives in a container ready to spray.

Wait for a dry day to apply.

Do not add water or dilute in any way.

Carefully tip into a sprayer. Make sure it has a wand that will reach the area you intend to spray.

When tipping solution into sprayer, make sure you do it on grass to avoid potential discolouration of surfaces no intended for the product.

Spray on cladding (Must be a sealed painted surface… do not spray on absorbent cladding such as cedar or brick).

Wait 10 minutes or so for product to fully activate and work… although it should take anywhere near that long.

If any traces of grime or mould remain, simply respray those areas.

No need to hose off after applying.

Be sure to check the product won't drip onto any surfaces not intended for the cleaning solution.
We can assure you the product works, just like the other products we sell which all have an amazing track record of success.
Suggestion:
Start with buying a 1L size container if you want to test first, otherwise you can purchase a 4L container on our ORDER page.