….the only specialist curtain mould removing product in New Zealand!
Mould Removal Products, information and tips about how to get rid of and remove mould off all types of Curtains & Linings within MINUTES!
Our Curtain Mould removing solution kills mould off curtains right in front of your eyes without scrubbing! Works on all colourfast thermal curtains, regular fabric material linings, nets, drapes or blinds.
Watch this LIVE 3 minute, unedited video of our 'Curtain Magic Mould Remover' in action… the only Curtain Mold Removing product on the Market!

Have you ever wondered if the mould growth in your home is harmful to your health, or triggering allergies? Too many Kiwis and home owners worldwide are breathing in harmful mould spores and don't even know it. The mould on your curtains could be the source of the problem!
To find out more about the Curtain Mould Remover, please click on the "FAQ" link at the top of the page.
We also have 1000's of customers using our cleaning products & treatments to remove mould from Ceilings & Walls! View product demo videos here
For those of you hesitant to give the Curtain Magic Mould Remover a go, please READ 100's OF CURRENT TESTIMONIALS HERE – Can be verified as true and correct
We can tailor the mould solution to your needs!
For example, most companies sell you an 'all rounder' mould cleaner, which is too general for our liking. You need different strengths for indoor and outdoor. We know it takes a stronger solution to clean mould off silicone, compared to what you would use to get rid of mould from a Calico curtain. There is no difference in cost… but the results will be tailored to exactly what you need.
Look at the power of our latest product for cleaning mould off ceilings and walls… no scrubbing, no wiping: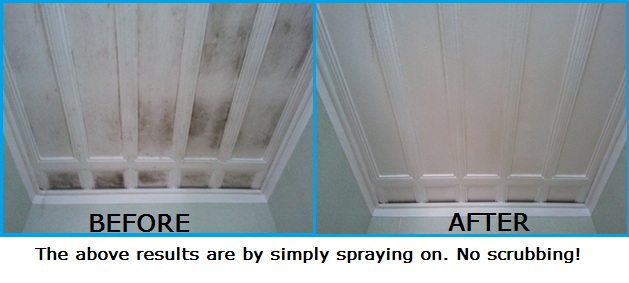 Other very popular products: